Multidisciplinary design firm Cushing Terrell, when designing the headquarters of software company AppFolio in Richardson, Texas, leaned into the romance of rustic Texas, combining it with the modern vibe of a downtown technology, for a transformation focused on creating the best working environment for employees.
Cushing Terrell's design team, with MAPP Built as the contractor, conducted extensive research, including asking staff what they love most about the Dallas area to convey the aesthetic of the culture AppFolio and create a dynamic and inspiring environment.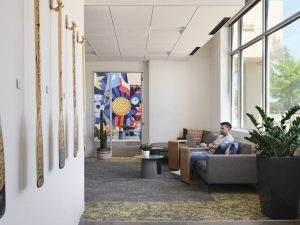 The look and feel of the resulting office interiors combine the appeal of rustic Texas with the contemporary energy reminiscent of a technology hub. Inspiration came from the Visit Dallas mural in Deep Ellum created by artists Meredith White and Brynner Aldrich (the latter was hired to create custom graphics for the AppFolio workplace) and the geography of Texas and the plains from the north-central.
For example, the light fixtures and acoustic baffles chosen by the design team reflect the shapes and colors of wildflowers, including bluebonnets, the state flower of Texas. Other Dallas and Texas-specific symbols creep into the interiors, such as the Pegasus Mobil Oil icon in the game room, copper ceiling tiles decorated with longhorns, and colorful graffiti.
Along with the interior design elements, the office layout is anchored on rest rooms called "water coolers". The first floor core is a large community gathering space beginning at the front door and running through the collaboration areas to the water cooler space. The centrally located reception and business lounge serve as both an in-house, client-facing meeting and event space.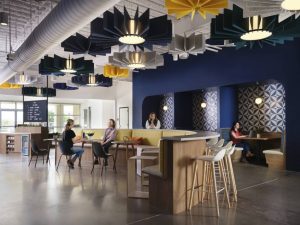 On the second floor, work and collaboration areas also revolve around the water cooler space. An important part of the planning was ensuring that all collaboration spaces were fully equipped with monitors and audiovisual equipment for hands-on, scheduled or impromptu meetings.
The project is the result of AppFolio's decision to include the second floor space of its existing office to create a 4459-m2 (48,000 square feet) headquarters where its entire Dallas workforce could be housed.